Stained Glass Flower Vase
Terrariums by Ron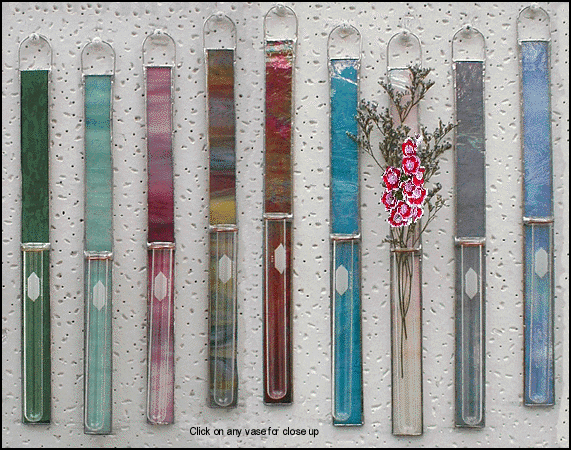 Choose one of these long vases, in the color of your choice, for any place that needs a touch of decorating. The removable glass tube is perfect for just a few flowers from your garden, or even those dandelions that the kids bring in. An ideal gift for your hostess, teachers, employees, or co-workers.
Made from a long strip of stained glass with a wire ring attached to hold a removeable test tube, and a wire loop at the top for hanging. The opalescent glass is chosen for having a life of it's own. Not needing light behind it for illumination, allows the vase to be hung on a wall, or in the window and look equally attractive.
Though they can hang anywhere, the shape is especially suited for hanging in narrow spaces between doors or windows, or on the wood frames surrounding them. They are very light, and can be hung from a small nail, or using a clear suction cup on a window.
I take pride in my work and guarantee your satisfaction, or return it for refund
Glass colors are listed on the "order" page.
[ Home ] [ Order ]