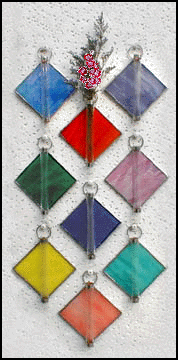 Click on any vase for close up
The Diamond Bud Vase has a small glass tube permanently attached to stained glass and a wire ring at the top for hanging. The opalescent glass is chosen for having a life of it's own. Not needing light behind it for illumination, it looks equally attractive on a wall, or in the window, holding a small bouquet of fresh cut flowers.
Made in the Tiffany tradition, these diamond shaped flower vases make unique additions to your home or office decor, and for small gifts for hostesses, teachers, employees, or co-workers They are perfect for just a few flowers from your garden, and make those dandelions that the kids bring in even more special!..

5" high x 4 1/2 wide
$10 each (Order 4 and the shipping is free.)

I take pride in my work and guarantee your satisfaction, or return it for refund
Glass colors are listed on the "order" page.