Home
Trip Pictures: The Drive Out
Shows:
---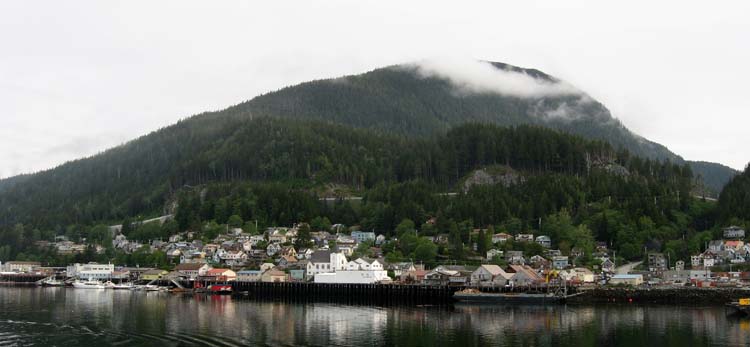 Approaching Ketchikan
---
I landed in Ketchikan around 7:30 AM Thursday morning, and Bill's son was kind enough to drive me over to the hostel.... saved a lot of walking. My bunk wasn't ready, so I dumped my gear, and got a ride down to the bus stop. After breakfast at McDonalds, I caught a bus and purchased a 3 day pass for $4, which will allow me to go exploring.
My first stop was downtown, where the first thing I saw was two huge tourships, Princess Lines, and Holland American..... I swear the two of them were bigger then the whole downtown area. Oh Well, I suppose it helps the economy. As expected there were many jewelry and souvenir shops. I did see a few really nice galleries mostly featuring Alaska, or Native Tribal inspired art.
I hopped busses to a couple Totem Pole Museums, and on the way back stopped in town again to pick up some gifts to bring home. After an early dinner, I headed back to the hostel. The owner is ex-Coast Guard, and works at running his version of a "Tight Ship" which ius really neither.



A park in the center of town




A stream on the edge of town.


Just after I took this photo, and put the camera in my pocket, An Eagle flew over head, perhaps 100 ft above me... Oh Well.
---
Saxman Cultural Center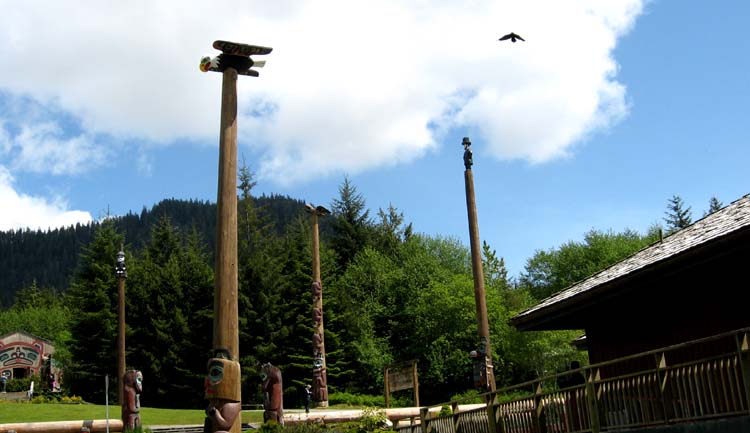 Take note of what appears to be a Raven flying overhead.
There were many in the area serenading us .
---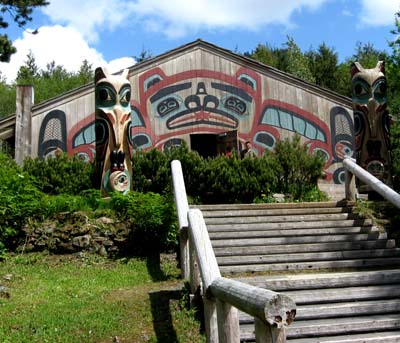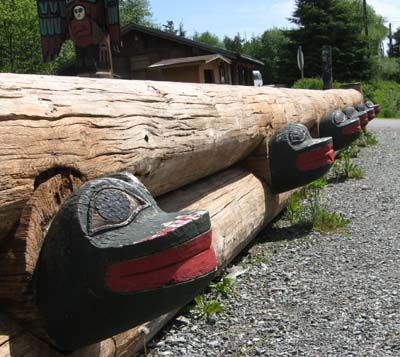 The Lodge, and Frog Borders
---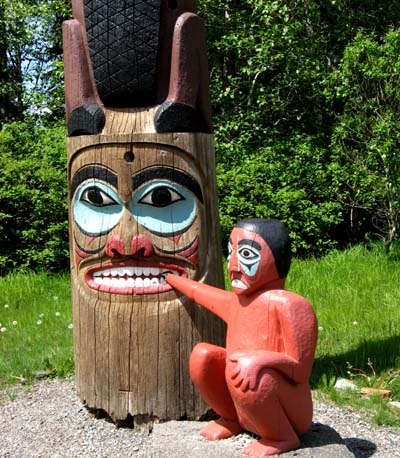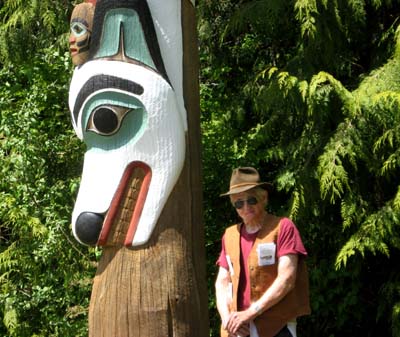 William Seward being eaten for being stingy, and me standing by a pole.
I'm the one on the right.
---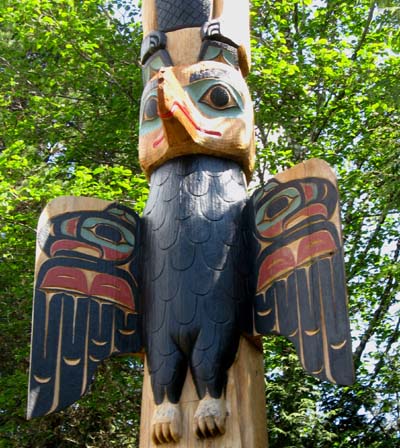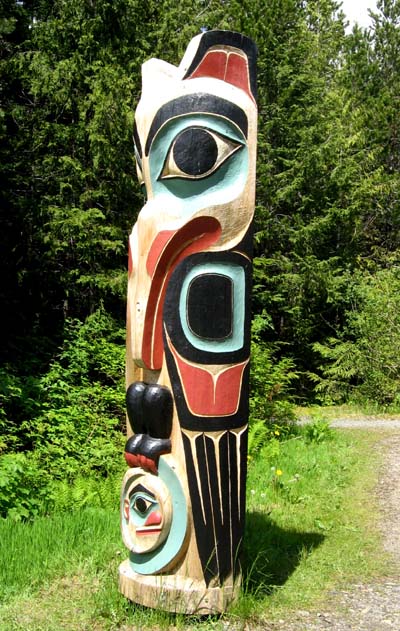 ---
It's Friday morning, and I'm getting ready to take my roommate up for a ride down to the bus stop and go wandering some more... TTYL... Ron
---
Saturday June 2nd....I was out and about yesterday, and the weather once again was beautiful. I was warned before I cmae here to be prepared for rain, after all this is a rainforest. However Thursday was sunny and in the mid 70s while yesterday was sunny and in the mid 60s. It's 6:30 AM, Saturday, and the sky is clear, so I may have lucked out, experiencing the only 3 continuous days of sun in Alaska this year.
The fact that this area is a rainforest shows up in many ways. Everything is lush and green, flowers and ferns pop out of nooks and crannies in the rocks all over town. In the state park I visited yesterday, stumps of red ceder trees measuring feet across, some which were cut down a hundred or more years ago, now sprout trees that measure up to a foot across.
---
SE Alaska Rainforest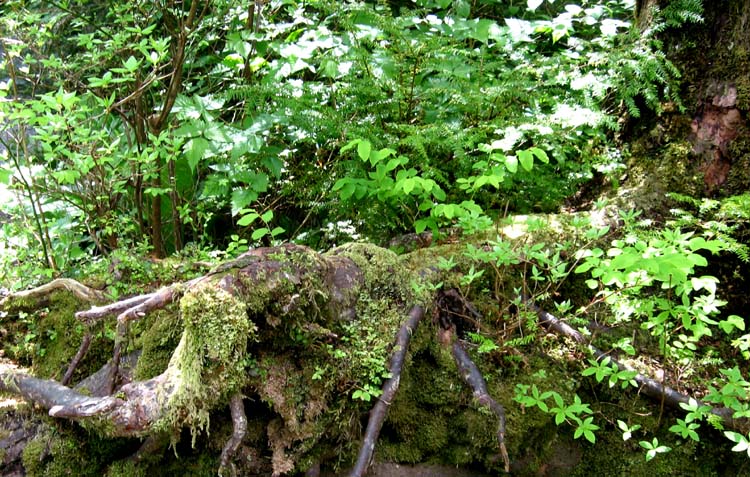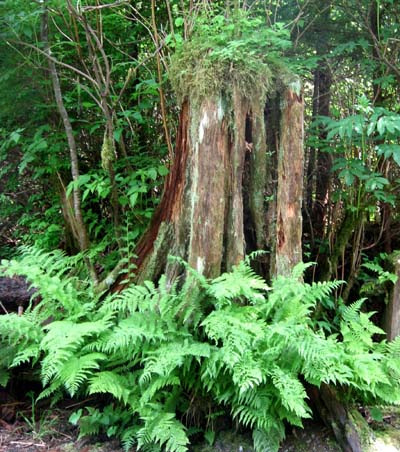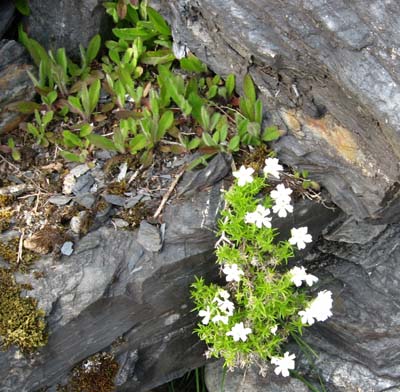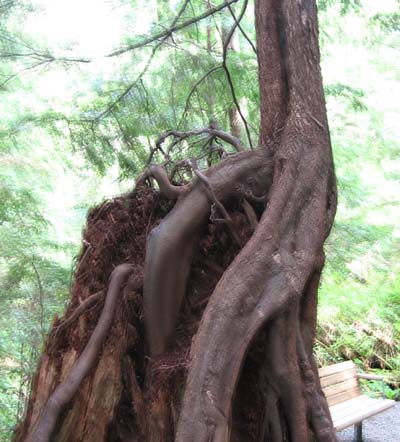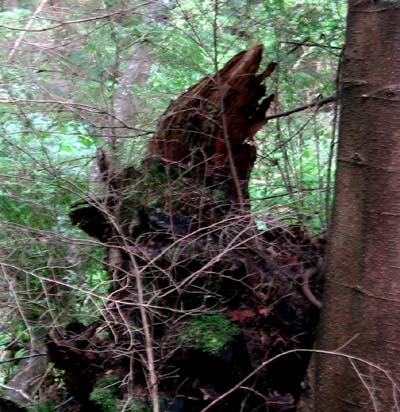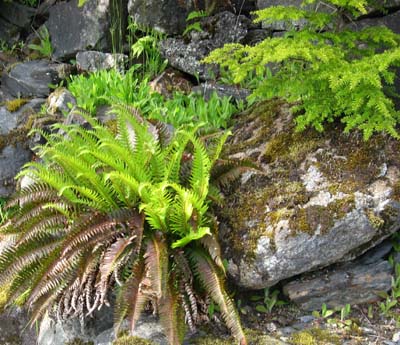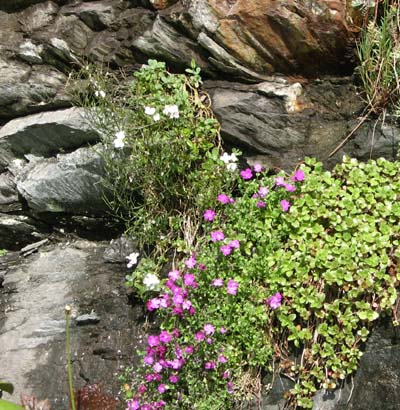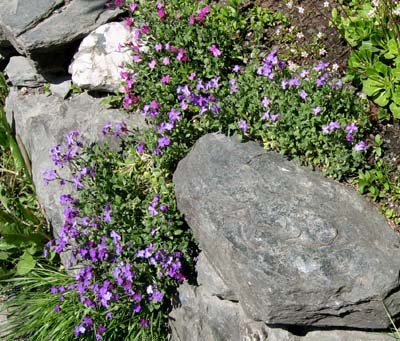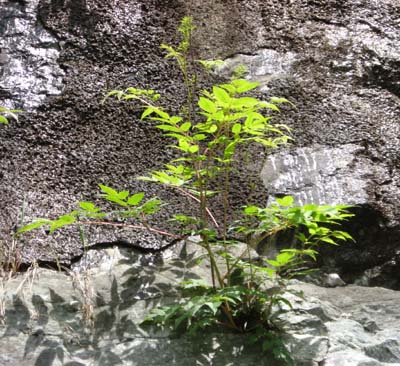 ---
I don't know what I'll do today.... I've pretty much seen all I want to in Ketchikan, and my feet are tired from all the walking. If I had any sense, I'd just sit around here and relax.... maybe do some reading. But since when did I have any sense?

---

Well, I decided to go out and ride the bus line just for something to do. One bus driver showed me a stop on the line near a fish processing plant where eagles often hang out in the trees above the town. Sure enough standing on the main street, I was able to watch (and take pictures of) eagles coming and going just above me..... what a treat!
Back at my room, just hanging out, and Bill came knocking inviting me to come over to his daughters for some home made clam chowder. While they were cooking, he took me to a lake nearby and we walked the 2 mile neat wandering through the temporate rain forest encircling the lake. Now I felt my visit is complete..... At the end of the day, I found that I had grown a little attached to this city.

Sunday June 3....Another beauriful sunny day!!! I'm packing and getting ready to leave. Bill is going to give me a ride to the ferry around lunch time, the ferry leaves at 3PM. The the journey will continue on the Ferry Trip South to Bellingham WA. I expect that I will not have as much to post because much of the scenery will be the same.



TTYL..... Ron