Home
Trip Pictures:
The Drive Out
Shows:
New Mexico
Aztec Ruins National Monument
As I was leaving Aztec, NM I spotted a sign for Aztec Ruins National Monument, so I went to see it. The name "Aztec was given to this location by early European settlers which thought they were made by the Aztecs of central America, when they were actually built by the Pueblos. First noticed in the mid 1800s, it wasn't until the early 1900s that an archaeological excavation began unearthing the site.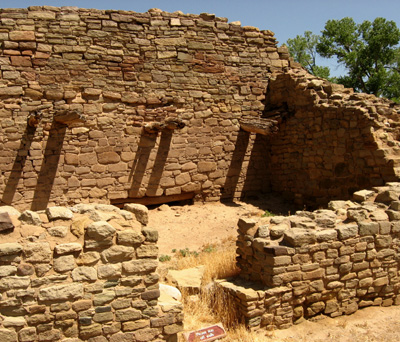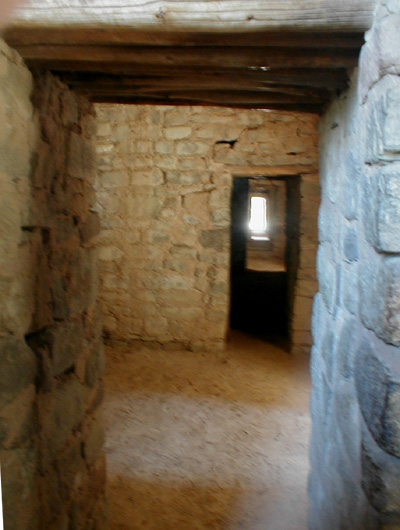 Rooms varied in size, and in sections rooms were often linked together suggesting family or clan areas.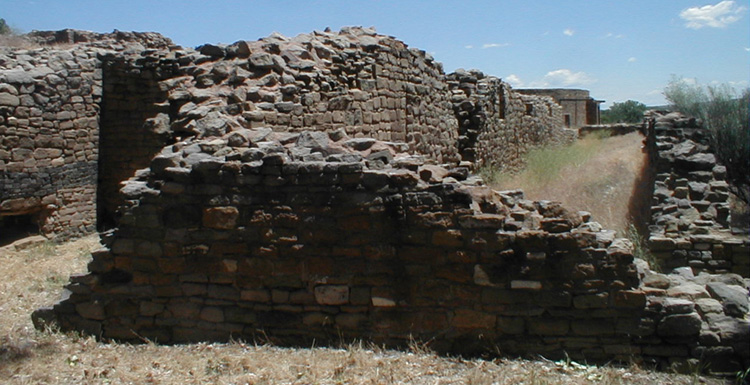 ---
Kivas
| | | |
| --- | --- | --- |
| | | Kivas are round rooms which were communal gathering rooms, where political, religious matters were decided, and ceremonies and history and legends passed on. Families or clans had there own small Kivas while there was usually a large one for the whole community. |
The Grand Kiva -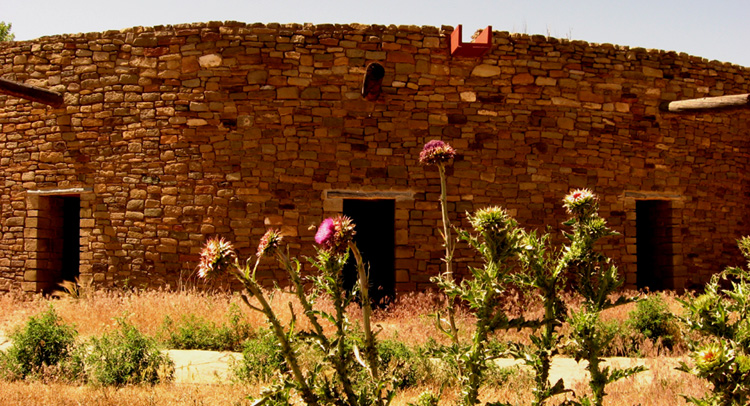 A reconstruction of the Kiva that served this community.
Inside of this Kiva can be seen upper level apparently a sort of altar where signs were seen of some sacred object. There is a shelf about 24" high all around the base room, which it is thought were not used as seats, but perhaps for sacred objects, or just left for the Gods, as people sat on the floor. There is a fire pit just out of site to the left. What I found most interesting was the rectangular pit, which has a matching on slightly shallower. This was a Foot Drum.... Wood was placed across the opening, and dancers drummed it with their feet. Different woods, or other material placed on top gave a wide range of sounds.

The below picture shows the inside roof, reconstructed to what is thought to be the pattern after analyzing the remains found on the floor.
---
Coranado State Monument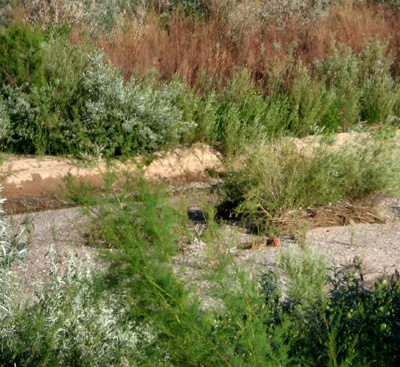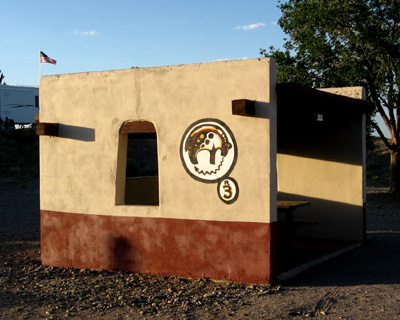 It's Thursday June 14th, and I'm staying at the Coranado State Monument campgrounds, on the banks of the Rio Grande River which later downstream forms part of our southern border. It has great adobe style shelters to sit out of the sun while letting cool breezes blow through, and the view from my campsite is spectacular!
I'm about 10 miles away from the show in Corrales on Sunday, and am looking forward to some well earned R&R . I may stay beyond Monday depending on how I feel. I don't have to be in Denver until 2 weeks from today.

---

Welcome to Corrales New Mexico

| | | |
| --- | --- | --- |
| | | Corrales is a small town full of creativity, and a desire to slow folks down to enjoy it. I thought this sign was clever and interesting. I'm doing a show in the town park behind the library tomorrow |

The show was small, but with a good selection of Art and Craft. Though I hadn't met any of the members before, I felt really welcome, and met some wonderful people. My sales were pretty good, so I was pleased.




---

Well..... That's All Folks!

---

I packed up after the show, and went back to the campsite. I was lying there thinking before I fell asleep... and came to a decision! I want to go home! I've been struggling with feeling homesick on and off for the last week. I really miss my home, my dog, and my gardens, and am tired of being on the road. This isn't unusual, I often miss home after a couple weeks. I really wasn't relishing having to hang around for ten days, and then go and set up the show in Littleton. I had already accomplished my goal of visiting 49 of the 50 states, and so I decided to pack up in the morning, and head home, and skip the Colorado show.
Monday morning, I was tired, slept a little later and got a late start. After packing up and reorganizing the van, I took a nice long hot shower, charged up my computer battery, and took off. I made it to a Wal-Mart in Pueblo, Colorado by yesterday evening, and took off from there this morning. I've covered a lot of ground today ( over 900 miles) and am writing from a truckstop in Missouri, about 50 miles west of St Louis.
I'm about 1,000 miles from home, and could try to push hard an be home tomorrow night. But, something tells me that would be stupid ( and I Know Stupid ) So, I think, if I can make it to their house by a reasonable hour, I will try to visit my friends Donald and Audrey in western NY, and head home the next day.
I hope y'all enjoyed my ramblings, both verbal and physical. If not, pretend you did, I will not ask anyway. (At least you will not have to put up with my bringing out a box full of pictures and put you through the agony of pretending they are interesting.) I had a lot of fun, met some fine people, saw a lot of awesome sights, and had my breakdowns at the most convenient times. As beautiful and unique as each of these states is, I now know that my home is where I belong, and where I want to be. That feeling is priceless!
Thanks for coming along........ Ron




Addendum....

As I left St Louis, and entered Illinois, I was pulled over by a trooper. he said I hadn't signaled a lane change, but I think he just wanted to check me out. After a bunch of questions about all the stuff in my van, and what I had been doing, he asked me if I had any weapons, booze, or drugs. He was satisfied when I replied no, and sent me on my way.
When I entered Indianapolis, I was pulled over again. This time the officer asked me what happened to my rear license plate which was missing. After checking my credentials, I guess to see if I was a wanted criminal, he let me go advising me to move my front plate to the rear, which I did a little later.
I continued on and made it to mt friends in NY by 8:30 that evening. ( about 800 miles) The next morning, I visited other friends, and left early afternoon for home.
On the last leg of the trip, I ran into some rain around Binghamton. As I headed on approaching Chenango County there was a Rainbow in the sky. It was complete from left to right, arching completly across the highway..... I had to drive right under it. ....... Welcome Home!