Home
Trip Pictures:
The Drive Out
Shows: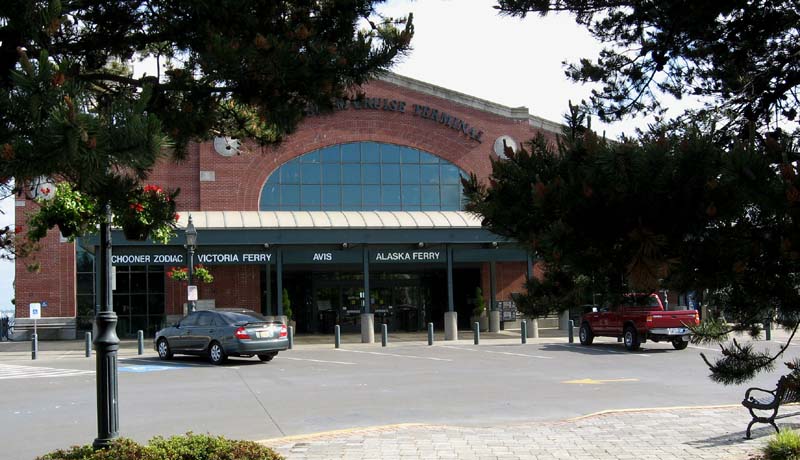 The Alaskan Ferry Terminal in Fairhaven (Bellingham) Washington
---
The ferry to Alaska leaves tomorrow (Tuesday) afternoon from this terminal, and is scheduled to arrive in Ketchikan on Thursday morning..

---

Tuesday May 29th 7:30 AM..... I'm sitting in front of the Alaskan Ferry window at the terminal waiting for it to open... supposedly in one hour. The ferry doesn't leave until 6PM, so I will have some time to kill once I get my ticket. That is if I can indeed get a ticket. I tried calling for a reservation over the weekend, but the offices were closed, so I'm hoping there will be room. I'm pretty confident that there will be openings for a walk on traveler, but one never knows. News Flash! They opened at 8 AM, I have my round trip ticket, which means I probably won't decide to live in Alaska permanently.
It's kind of nice to just hang out with nothing of major importance to do yesterday and today. Now that I'm here there are no deadlines to meet, nor urgent commitments, hopefully that will continue fro the next week, until I return next Tuesday.

---

I discovered about 3 hrs. out that I could get access to Wi-Fi and can edit this page as I move along.
I met a great couple while waiting to board the ferry. Bill and Karen prior residents of Alaska, now live in Washington, and are taking their vacation to visit their kids and grandkids in Ketchikan. They've been a big help to me getting me oriented.
I've rolled out my gear on the floor in the lounge between two seat rows, and made myself at home. It's not much bigger then my van, but the facilities are better. There is a real diversity of people on board, all ages, an assortment of personalities from all over, and everybody is personable and friendly.


Ferry Terminal, and Coast Guard ship from ship


Leaving the dock, and a view of Bellingham Harbor




Bill and Karen, "Smooching it Up"




My sleeping space... Looks like another 'Cave' Sunset Tuesday evening....

---

Wednesday Morning

I Woke up to This!

---

Later this morning....


---


Lots of folks just lay their gear on the lounge floor, or sleep on the chairs, despite the signs!

---

Bella Bella


Bella Bella is a First Nations community located in a unique coastal environment. They are located on Campbell Island on the Inside Passage of British Columbia's Central Coast. It is in the heart of the Great Bear Rainforest with spectacular scenery & wildlife.


Bella Bella Lighthouse

---

Oak Ridge Lighthouse


---

Well, folks.... That's all for today... I'll be leaving the ferry in Ketchikan in the morning, and then will have to continue on the Alaska Page.